What is the Holding Deposit?
To reserve a property a holding deposit will be taken. The holding deposit will be the equivalent of 1 weeks rent of the property applied for. Holding deposits are non-refundable in the event that the tenant fails the reference or fails to complete references within 14 days of request. The holding deposit will be refunded in the event that the landlord withdraws acceptance of the tenant or fails to respond within 14 days themselves.
Are there any charges or fees to pay either before or during a tenancy?
Only a few charges are acceptable to tenants. They are as follows:
Lost Keys: Should keys be lost a charge for administration by Bloore King & Kavanagh Staff will incur a charge of £15 per hour. Any charges for contractor ie: locksmith or similar will be the responsibility of the tenant to pay
Late or Default Rent Payments: Interest will be charged for late payment or default of rent payment over 14 days. Interest will be charged at 3% (three per cent) per day of the outstanding rent.
Changes or ammendments to a Tenancy Agreement: if you wish to amend or change anything within your current tenancy agreement a charge of £50 plus vat is applicable
What Identification documents do I need?
All prospective applicants will be asked to produce two forms of identification. One form of photographic ID such as a passport or a new style driving license and one proof of address such as a recent utility bill. If you are a non UK resident you must provide a copy of your passport. We are now required to carry out online electronic anti money laundering checks.
What deposit do I have to pay?
A deposit is taken of the equivalent to 5 weeks rent All deposits are placed with the 'Deposit Protection Scheme' (DPS) for the duration of the tenancy.
What type of Tenancy will I have to sign?
Under normal circumstances you will sign an Assured shorthold Tenancy (AST) In certain circumstances it may be relevant for a different type of tenancy to be signed.
Can I keep pets at my rental property?
Pets are only allowed to be kept at the property with the express permission of the landlord. Where a landlord agrees to accept a pet/s to be kept at the property an increase in the monthly rental will be levied for the entire term of the tenancy from £25 per month.
What Happens if I have a maintenance problem in my rented property?
If a tenant has an issue with the property and the tenancy is managed by Bloore King & Kavanagh then we are there to help you get the problem resolved as quickly as possible. We have a range of plumbers, electricians, handymen and builders who we can call on for both standard maintenace work or emergency problems. We have a dedicated maintenance reporting system where tenants can report the issue called PropertyFile. When you move into your rented property you will be given an invitation to download the PropertyFile App. You will then be able to report any issues with your rented property anytime.
If the problem occurs out of our working hours and is of an urgent nature and cannot wait until our offices are open then we have an emergency call out arrangement as detailed below.
Our out of hours call out number is as follows:
MEW Property Maintenance Services
01384 880 200
Out of hours service is provided during the following times:
Monday to Friday: 7am to 9am and then 5pm to 10pm
Saturday: 7am to 9.30am and then 2pm to 10pm
Sunday: 7am to 10pm
**Excluding Christmas Eve, Christmas Day, Boxing Day, New Years Eve and News Day
Bloore King & Kavanagh normal working hours are: 9am to 5.00pm Monday to Friday and 9.30am to 2pm on Saturday
Outside of these times we would ask that tenants take all necessary precautions to limit any damage and in an EMERGENCY ONLY call out MEW Property Services to prevent further damage. Please do not call directly and arrange any works during office hours or if it is not an emergency as we may not be authorised to pay the bill and you may be charged.
NB// If the issue is found to be a user/tenant fault or an out of hours call out is made and was not an emergency the bill will be the tenants responsibility.
Redress
We are members of the Property Ombudsman
Client Money Protection
As a PROPERTYMARK protected agent we have client money protection via protertymark itself. For more details on our Propertyymark conduct and membership rules you can go to: https://www.propertymark.co.uk/media/1045366/conduct-and-membership-rules.pdf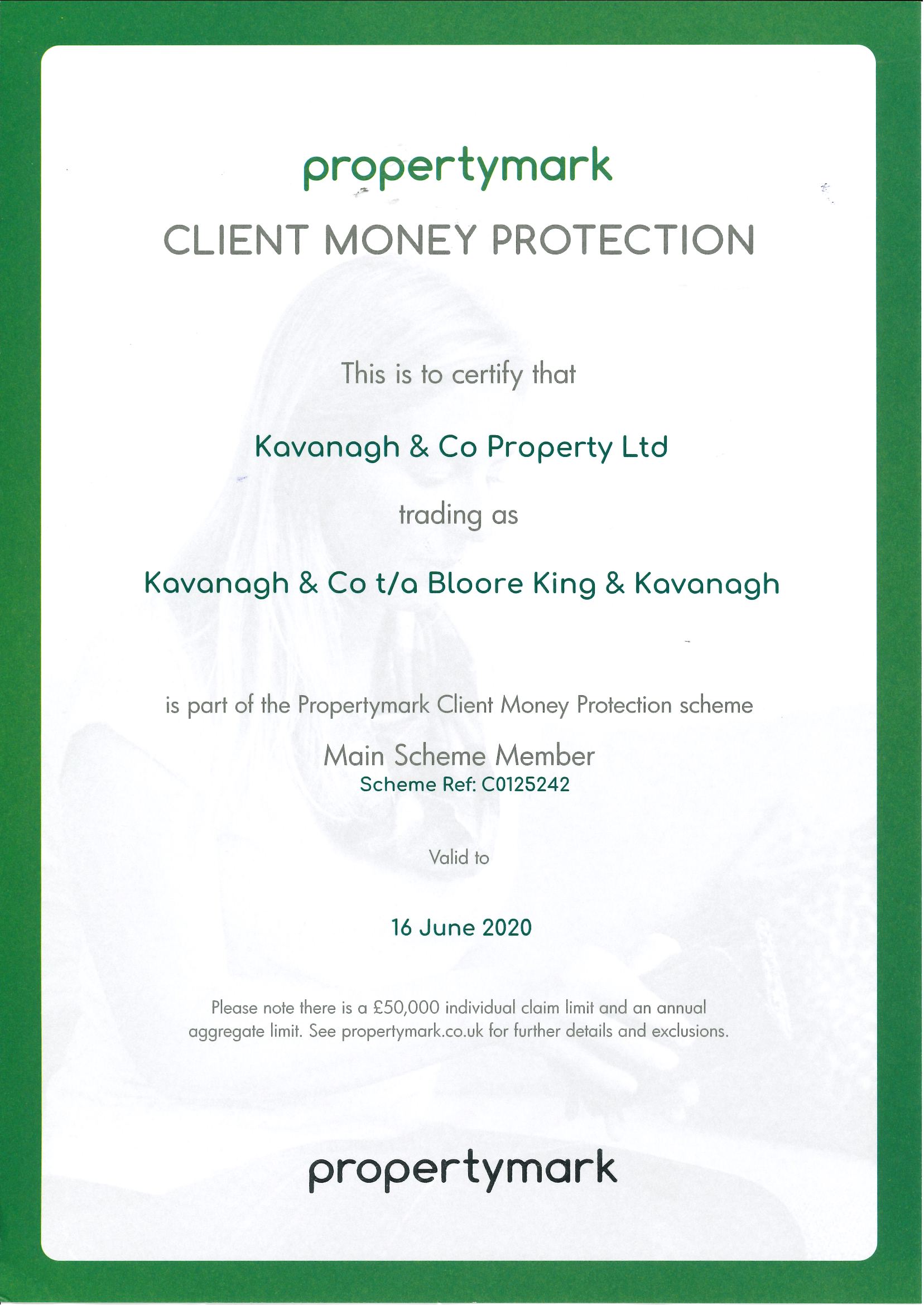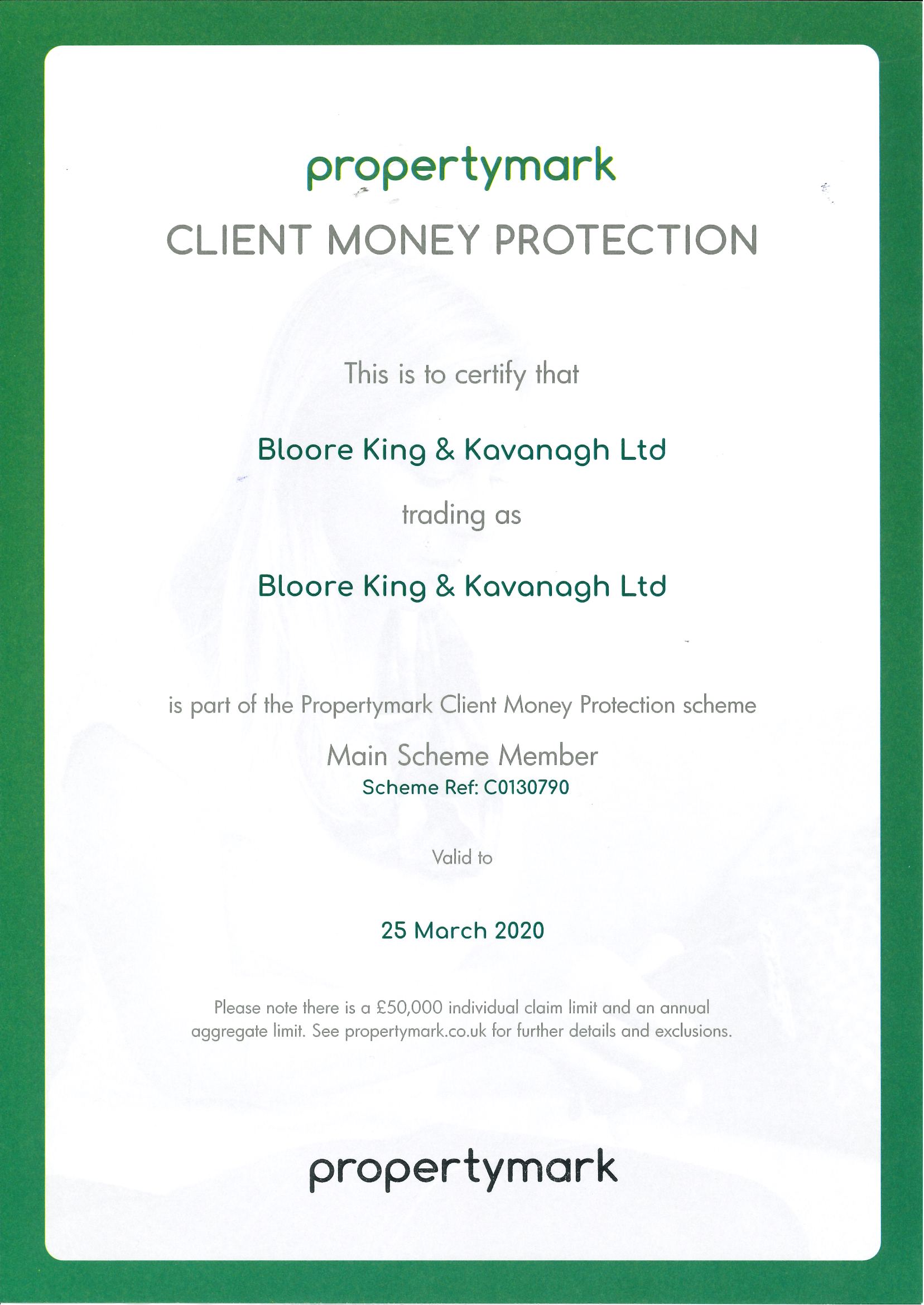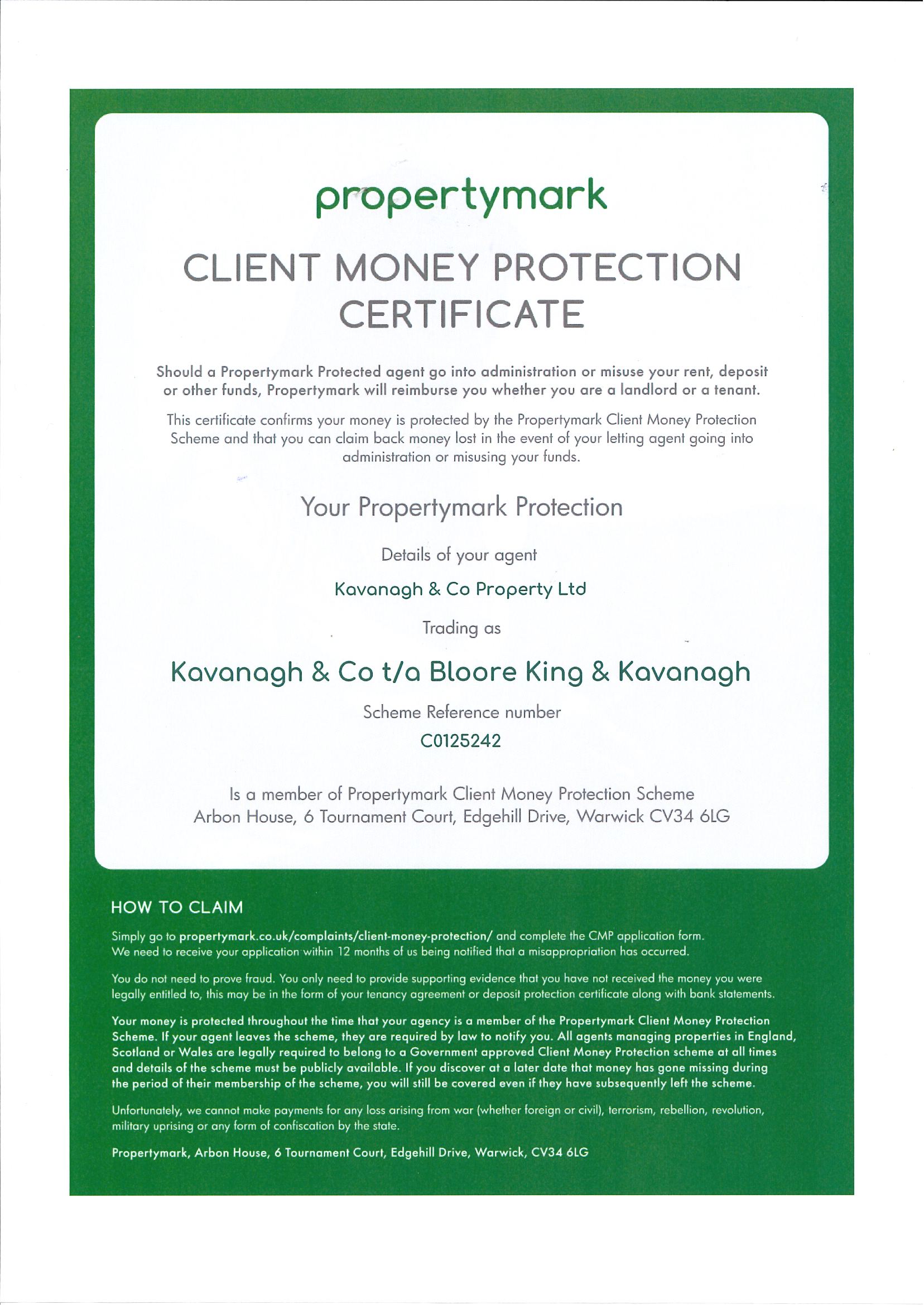 Referral Fees
We refer clients, landlords, tenants and buyers to a number of companies/service providers for various reasons within the scope of our terms and in line with our business. It is your decision whether you choose to deal with any of the companies we recommend however you should be aware that some of these companies provide Bloore King & Kavanagh with a referral fee for recommending them.
Please find below an inclusive list of companies which provide Bloore King & Kavanagh referral fees along with the potential fee paid
Company Referral
Talbots Solicitors £120
Jordans Solicitors £ 60
Waldrens Solicitors £100
Medway Solicitors £175
IAMSOLD UK Auctions £100.00 (in the form of love to shop vouchers)
GoodLord Utility Switch £ 12
Goodlord Insurance (various) £ 12
Mortgage Brothers £150
Utility Switch £12
Horderns Removals £40 - £150 (max)
GDPR Privacy Policy
For our company GDPR Privacy Policy reference new legislation May 2018 please click on the link at the bottom of the home page entitled 'Privacy Policy and Notice'