Sales FAQS
---
How do you value my home?
An accurate valuation of your home is imperative to gaining a successful sale. The first question a buyer will ask is 'how long has it been on the market'. The answer to that question will determine how that buyer views any potential offer they may make.
You can rest assured that as property professionals we will give you an up to date accurate valuation of your home along with any advice we believe would help to sell your home quickly to the right buyer.
How do you market my home?
A lot of agents who have huge numbers of houses on their books will simply list a property and then sit back and wait for enquiries to come in. At Bloore King & Kavanagh we believe in giving the best most pro-active service possible.
Your home is your most treasured possession and also your biggest asset and should be treated as such. Your home will be marketed through our extensive range of websites such as Rightmove, Zoopla, Prime Location, Boomin' and bloorekingkav.co.uk. But we don't stop there……we are a pro-active team…..our trained and qualified staff will be constantly calling out and mailing potential buyers, talking to them about your home and getting them round to view it. This is how to sell houses!!
Are you Qualified?
Yes we are. Our staff are qualified by the NAEA, NFOPP or ARLA so you may rest assured that your home is in the safest pair of hands. We are also NAEA and ARLA propertymark protected.


Are you regulated?
There is no specific regulation for Estate Agents. However We are ARLA and NAEA propertymark protected therefore we adhere to the highest standards within the industry. We are members of the 'Property Ombudsman' and also all Estate Agents are governed legally by the Estate Agency Act 1979.
What is an EPC?
An energy performance certificate (EPC) is required by law for the sale and rental of any property in the UK. It is a measure of the energy efficiency of your home. As gas and electric prices rise this report is becoming more and more important to buyers. The EPC lasts for 10 years.
Will you show people round for me?
Of course we will...As part of our all inclusive service package we will wherever possible accompany viewings and show potential buyers around for you.
What happens when an offer is made?
Once we have a formal offer on your home we will inform you of this verbally and in writing. We will always try and negotiate the best possible price from the potential buyer and will keep you informed throughout the process. Remember, it's your home and it is your decision on what offer you will accept We will advise you but it is your decision and we would never pressurise anyone into taking an offer they are not comfortable with.
What happens once I accept an offer?
Once an offer is agreed in principle we will then go through our standard confirmation process which includes making sure that they have the funds in place for the deposit and an agreement in principle from a lender if they are having a mortgage. If they are buying the property cash then we will request proof of entire funding. We will also ask for proof of identity to ensure we are complying with the latest money laundering regulations. Once you are happy with the offer we would also be delighted, should you want us to, get involved in helping you secure the very best deal on your onward purchase. Our excellent negotiation skills have helped many of our clients receive large discounts off the property they are looking to buy. Every penny counts when you're buying your new home.
Do I then just wait for it to complete and let the Solicitors handle everything?
Absolutly no. No matter which service level you choose you will receive full aftersales care from our former conveyancing solicitor Lisa who will progress the sale through the whole process all the way to completion. Our entire team will be available for help and advice on any aspect of the sale and they will be checking and talking to your Solicitor and the buyers Solicitor to ensure a smooth and easy transaction.
Client Money Protection
As a PROPERTYMARK protected agent we have client money protection via protertymark itself. For more details on our Propertyymark conduct and membership rules you can go to: https://www.propertymark.co.uk/media/1045366/conduct-and-membership-rules.pdf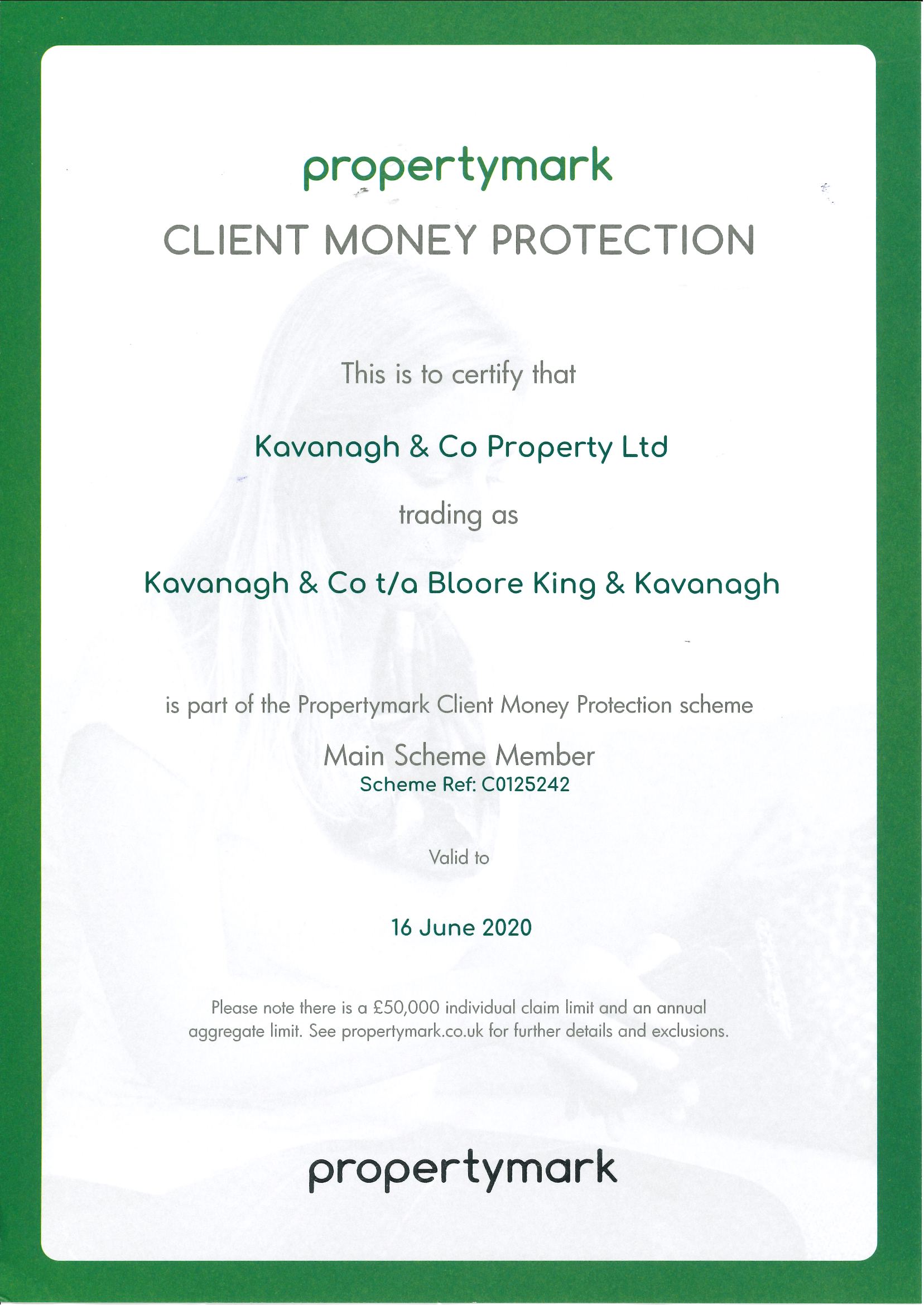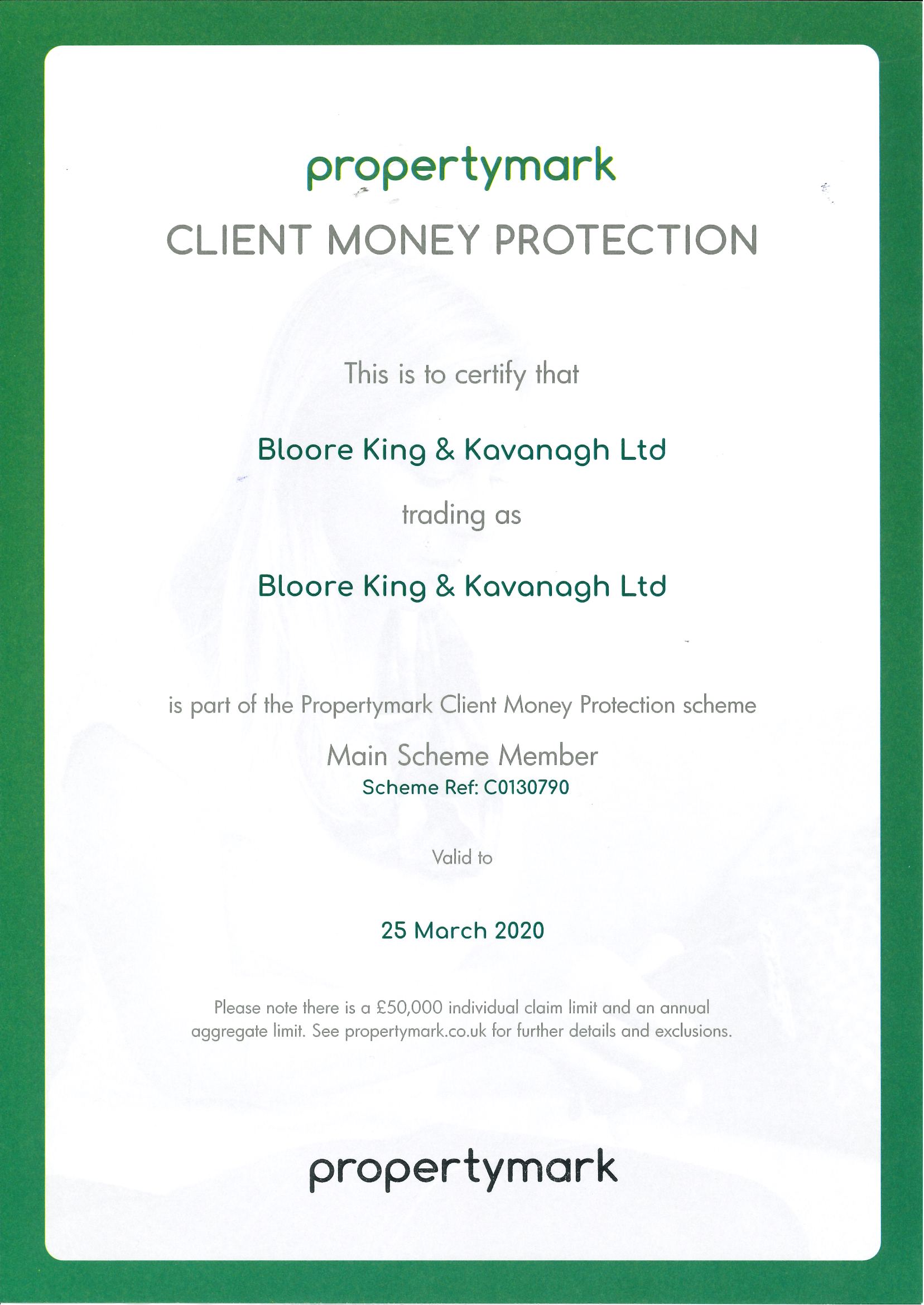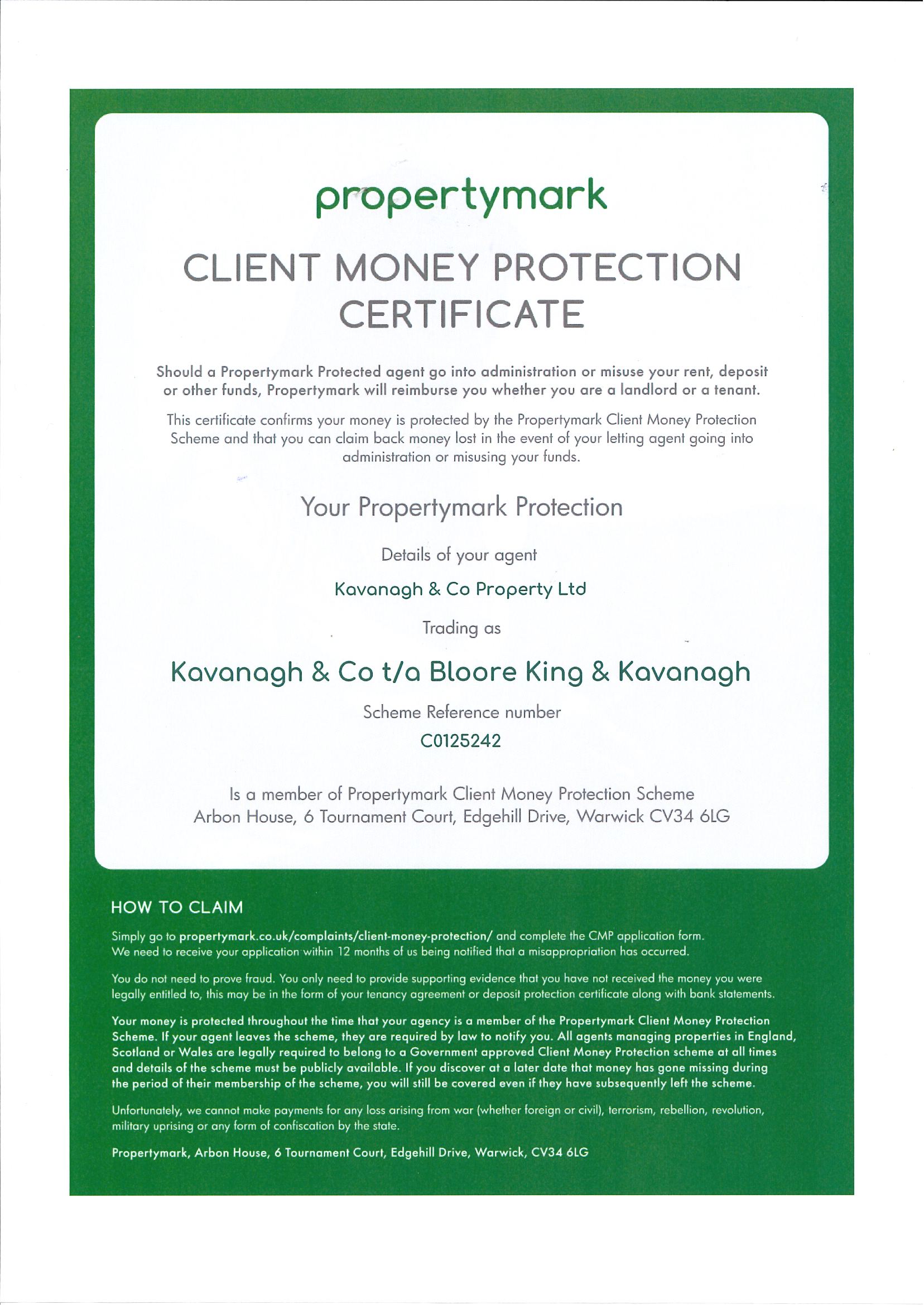 Referral Fees
We refer clients, landlords, tenants and buyers to a number of companies/service providers for various reasons within the scope of our terms and in line with our business. It is your decision whether you choose to deal with any of the companies we recommend however you should be aware that some of these companies provide Bloore King & Kavanagh with a referral fee for recommending them.
Please find below an inclusive list of companies which provide Bloore King & Kavanagh referral fees along with the potential fee paid
Company Referral
Talbots Solicitors £120
Jordans Solicitors £ 60
Waldrens Solicitors £100
Medway Solicitors £175
IAMSOLD UK Auctions £100.00 (in the form of love to shop vouchers)
GoodLord Utility Switch £ 12
Goodlord Insurance (various) £ 12
Mortgage Brothers £150
Utility Switch £12
Horderns Removals £40 - £150 (max)
GDPR Privacy Policy
For our company GDPR Privacy Policy reference new legislation May 2018 please click on the link at the bottom of the home page entitled 'Privacy Policy and Notice'