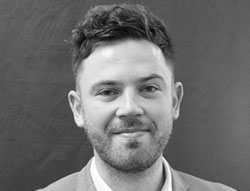 From an early age Sean has been involved in Residential Lettings while continuing his studies at school and sixth form. Sean continued to pursue his interest and success in the English Language at Staffordshire University obtaining a Degree in English and Creative Writing. During this time, Sean gained some major 'life experience', but always kept an interest with relation to property.

After University, Sean was offered a role as a Lettings Negotiator at the newly formed Taylors Lettings Ltd. After only twelve months within this role, he was promoted to Senior Lettings Negotiator, a role which he retains to this day. Sean is a dedicated member of the Team with exceptional knowledge of the industry, in 2016 he became 'ARLA Propertymark' qualified. He wants to build on his success and cement his position in this ever-growing company.

Being local himself Sean provides not only extensive knowledge of the industry but also advice on the local area. He has a very vibrant, outgoing and approachable personality which works well when dealing with new clients, his enthusiasm comes across to clients and he receives many letters of thanks and praise from both new and existing clients.
In January 2020 Sean was promoted top the position of Office Manager looking after the day to day running of the office.