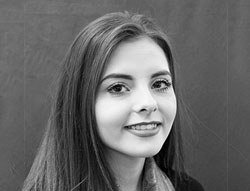 Libby joined the Team as a 'Trainee Administrator' and has worked her way up to her current role as negotiator. In the time she has been with us her knowledge and confidence have developed and she is now able to advise clients on the lettings process and deals with Tenants and Landlords on a daily basis.

Her friendly and outgoing personality means clients quickly warm to her.

Libby's main hobby is looking after her 11 month old Alaskan Malamute and her main achievement from 2016 was passing her driving test and securing an apprenticeship at Bloore King & Kavanagh!