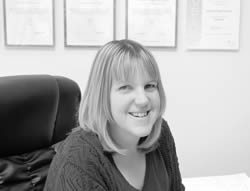 Formerly a primary school teacher, Jo had a career change in 2017 when the opportunity arose to join the Bloore King and Kavanagh team as a viewings consultant/Negotiator. Having always had a huge interest in property, this seemed like an opportunity that was too good to miss. She has previously renovated one house and has now started on another.

Jo has lived in Halesowen for over 15 years now with her husband and two children. She has recently extended the family by welcoming a Springer Spaniel puppy into the household, giving her the perfect opportunity to explore the countryside surrounding Halesowen with her children and the puppy!
When she is not working, she loves to spend time in the kitchen baking and can often be found delivering cupcakes to the office.

In September 2019 Jo moved in to the role of Property Maintenance, job in which she excels at and now looks after all the maintenance requirements for our extensive lettings portfolio.