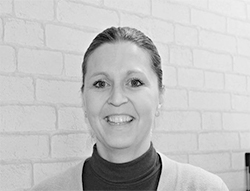 Helen joined us in January 2019.
I have always been in customer services since leaving college at the age of 19 years old. I have a GNVQ Advanced in Leisure and Tourism. I joined Virgin Atlantic at the age of 23 years and travelled the world with the job I loved for 13years. I have seen many beautiful places, one favourite place of mine is New York. During my time working for Virgin I married a lovely man from Halesowen and we have been together for 12 years and married for 10 this year. I now have two boys 8 and 5 and a newest addition last year of our cockerpoo puppy. To spend more time with my family I took redundancy from Virgin in October 2016 and chose a completely different career in Auto Enrolment with a corporate company in Bromsgrove. I spent 2 years learning about pensions and all about working in an office environment. Whilst working for Johnson Fleming I studied and achieved an NVQ Customer Service Level 3 award.
I have always been keen to get back into a customer service based role. I like to be able to look after people and be supportive towards individuals needs. When the opportunity arose to work for Bloore King and Kavanagh it was something I wanted to be part of.
I love nothing more than to spend time with my family and friends and building memories with my boys, whilst they are still young.